Providing all of our patients the potential to start a family!
We aspire to provide inexpensive, patient-centered, and cutting-edge reproductive care so that all of our patients can start a family.
YOUR ACCESS TO A PERSONALIZED AND RELIABLE GYNAECOLOGY CARE
Gynecological issues can impact women of all ages in various ways. However, the majority of the issues are minor, but they can still have a substantial influence on their personal, professional, and family life. We genuinely think that the health and well-being of a family are inextricably linked to the well-being of women. At Orion Hospital, we are devoted to providing a private setting in which you may discuss your concerns in depth. We also ensure that you receive a personalized treatment plan that will be thoroughly described to you.
Specialists in the treatment of:
Endometriosis
Menstrual problems
Fibroids
Chronic pelvic pain
Premenstrual symptoms
Ovarian cysts
Problems in menopause
Female sterilization
Contraception
Certified Gynecologists
The hospital, which is supported by a handpicked team of healthcare specialists, strives to deliver the finest gynecological services that fulfill the different requirements of women of all ages on a constant basis. Our gynecologic specialists are the best gynecologist in Wakad, Pune who take the time to pay attention to patients inform you on female health and carefully walk you through treatments and procedures.
At Orion Hospital, we are committed to providing our patients with the finest quality health care possible. We offer the most comprehensive range of gynecological and obstetrics examinations and care, applying a cutting-edge, comprehensive, holistic, and patient-centered approach. Everything is done with the most modern technology and procedures for our patient's well-being.
Our gynecologic department has a team of highly skilled and experienced specialists that give premium quality medical treatment while maintaining an honest relationship with their patients. Women can be confident of quality care at any stage of their life with our in-patient and outpatient solutions. More significantly, our professionals are available to assist women with pre-conception counseling. Our counseling services are geared toward ensuring that women who are trying to get pregnant are in good enough health to receive the precious gift in their wombs.
Book a consultation with the gynecologists at Orion Hospital!
Our facility is readily accessible by major transportation networks and is conveniently located for patients from all parts of Wakad, Pune. If you would like to book an appointment, please contact us.
Our medical specialists care about you & your family's health
Book a Complimentary Appointment by Visiting or calling Us!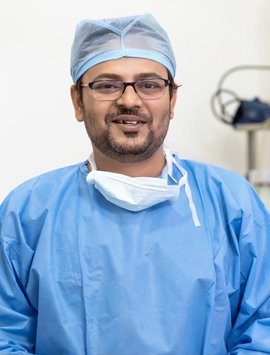 Dr. Parag Hitnalikar
Chief IVF Consultant
He completed his M.D (OBGY) from G.M.C Miraj which was followed by F.N.B.-Reproductive Medicine from Ruby Hall Clinic, Pune. In the following years, he undertook training in Fertility Enhancing Laparoscopic and Hysteroscopic Surgeries and Gynecological Laparoscopic Surgeries. Also, he is well informed about the practical aspects of IVF Laboratory Procedures and Laboratory Maintenance along with surgical, clinical obstetrics, and gynecology.
Besides, he has sound experience and skills in all aspects of infertility management which includes IUI, IVF, ICSI, semen preparation, oocyte picks up, and embryo transfer. Apart from this, he has undertaken various publications, attended conferences, and undertaken paper presentations. For date, he has catered to more than 5000 cases of IVF and ICSI wherein he has personally evaluated every case with finesse.