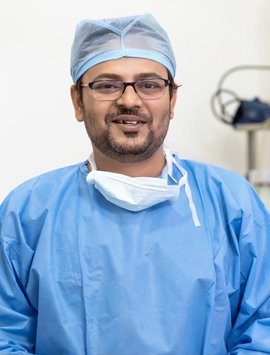 Dr. Parag Hitnalikar
Chief IVF Consultant
Overview
Dr. Parag is the infertility consultant who has extensive knowledge and training in the field of infertility. He is also a trained obstetrician and gynaecologist. He has a wide range of experience of 10 yrs in this field. He has been outstanding throughout his academic career and has been a meritorious student right from S.S.C. He has done significant academic and extracurricular contribution during his graduation. He has done his masters degree in Obstetrics and Gynaecology from government medical college Miraj, which is well known for its high risk obstetrics care. He has done his super specialization in Reproductive medicine and infertility from Ruby Hall Clinic, Pune.
He has been fortunate enough to be selected for the training course in Reproductive Medicine which has got only ten seats throughout India. He has also worked in other renowned institutes like Sassoon General hospital, Sunrise hospital, and Galaxy Laparoscopic institute and so on. He is trained in IVF, ICSI, IUI, anthology work, USG guided procedures such as ovum pickup, embryo transfer, embryo reduction, amniocentesis, laparoscopic surgeries, and obstetrics & gynaecology.
He has a collective experience of more than 1500 IVF cases. He has continuously upgraded his knowledge through various academic activities, conferences, and research work. He has been called upon as a faculty to deliver lectures on advances in infertility by many medical societies all over India. He has published many papers in national and international journals. He has been in the organising committee for many conferences by IAGE(Indian Association of Gynac Endoscopy), POGS(Pune obstetrics and Gynaecology Society ), ISAR(Indian Society of Assisted Reproduction).
He completed his M.D (OBGY) from G.M.C Miraj which was followed by F.N.B.-Reproductive Medicine from Ruby Hall Clinic, Pune. In the following years, he undertook training in Fertility Enhancing Laparoscopic and Hysteroscopic Surgeries and Gynecological Laparoscopic Surgeries. Also, he is well informed about the practical aspects of IVF Laboratory Procedures and Laboratory Maintenance along with surgical, clinical obstetrics, and gynecology.
Besides, he has sound experience and skills in all aspects of infertility management which includes IUI, IVF, ICSI, semen preparation, oocyte picks up, and embryo transfer. Apart from this, he has undertaken various publications, attended conferences, and undertaken paper presentations. For date, he has catered to more than 5000 cases of IVF and ICSI wherein he has personally evaluated every case with finesse.